In December 2017 an innovative device based on the Ready for Sky platform smart socket SkyPort entered the market under the REDMOND brand name.
SkyPort is a smart adapter between a traditional socket and an electrical appliance with a power consumption of up to 2.2 kW. The gadget allows you to control the operation of the connected devices from your smartphone via the Ready for Sky app. The novelty has expended range of functions compared to the previous generation of smart sockets.
Remote control features are no longer limited to turning the device on and off. In the application "stuffing" Ready for Sky has integrated the ready-made scenarios for different types of household appliances connectable to the network via the smart socket. The user can either select the integrated templates for devices control or create individual scenarios of the devices operations.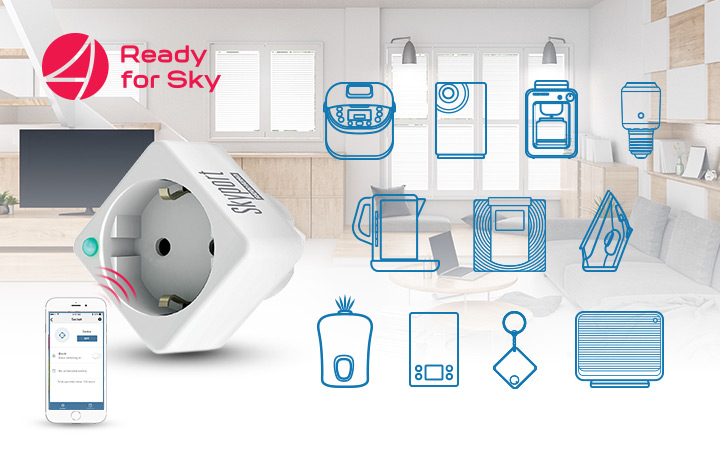 The application provides ready-made scenarios for:
• heaters;
• water heater;
• lamps;
• TV sets;
• thermopots;
• irons.
Scenarios allow for the connected devices to:
• set the operation schedule;
• adjust a timer of work;
• lock the power.
Using built-in scenarios, a user can, for example:
• lower the temperature in the room for his/her return home;
• warm up the apartment in his/her absence;
• set the TV timer to limit viewing time for children;
• adjust the schedule of aquarium and flowers illumination;
• from the next room turn on heating of water in a thermopot to prepare baby food;
• block the current supply for the device to eliminate potentially dangerous situations.
The Ready for Sky application also includes scenarios of user remote interaction with the devices situated in the apartment, terrace or in the country house. For example, by selecting "heater-apartment" in the application, the user will find the integrated scenario for heating the room in the morning and evening, when the family is home. In the integrated scenario, you can change the time of the device operation. If the proposed template is not convenient for the user, he/she can adjust his/her own operation schedule according to his/her personal schedule.
In February 2018, the scenarios will appear for the grill and the multibaker. You will be able to start cooking pastries and other hot dishes in one click from the built recipe book. The Ready for Sky app will also allow you to set your own cooking time. What is more, notifications about the readiness of dishes cooked in the grill or multibaker will be integrated in the application.