Ready for Sky and REDMOND have launched a new high-tech kitchen appliance – the smart oven RO-5706s. Key features of the device are the remote control from a smartphone, 16 automatic programs, increased volume of the working chamber, a spit and a grill.
As the other smart home appliance, the RO-5706S can be controlled both via the control panel or remotely*.
The following features are available via the Ready for Sky application:
• Built-in recipe book. Select the recipe you like and start cooking in one click!
• Setting the cooking program. With the help of the smart oven you can bake meat, poultry, fish or vegetables. You can also cook in pots, bake bread, make omelets and cheesecakes, stew meat dishes and soups.
• Separate or simultaneous use of upper and lower heating elements. The lower heating element will be ideal for baking, the upper element is suitable for steaks, fish and vegetables. Two enabled heating elements will create perfect conditions for cooking pizza or roast.
• Cooking temperature and time adjustment during operation. The user can change settings according to his/her preference.
• Enabling of the grill and convection features during cooking. Convection allows you to prepare juicy dishes, bake meat and fish evenly and make golden brown pastries. The grill function makes dishes with smooth texture and crispy crust.
• Keep Warm function will keep the dish warm after the end of cooking. The Keep Warm operating time is up to 12 hours.
• Time Delay function allows to cook dishes with precise timing. The Time Delay function is up to 24 hours.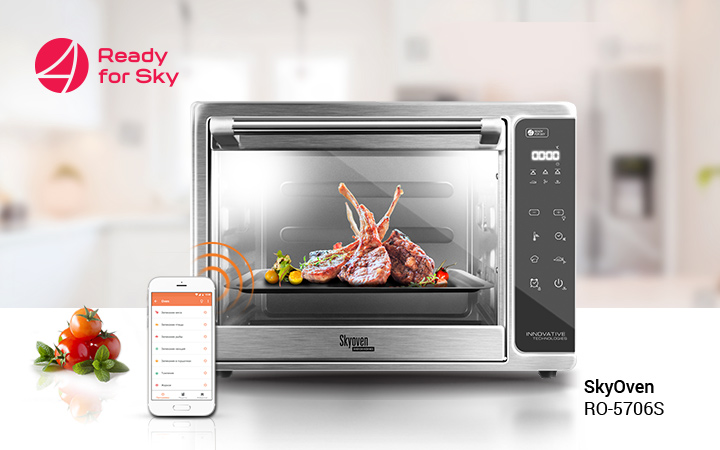 Additional benefits:
• increased working chamber volume up to 35 L for cooking large quantity of food at a time;
• a baking sheet for baking, cooking pizza and preparing main courses;
• a spit and a grill for cooking grilled dish with a minimum amount of oil;
• a removable inner tray for fat excess;
• control panel lock function for extra safety during operation.
Ready for Sky. Expand the boundaries of your freedom!
*Control from anywhere across the world is available with the connected R4S Gateway app on your home Android-smartphone/tablet.