The Ready for Sky platform partner REDMOND announced a release of their remotely control novelty. The smart grill RGM-M810S cooks steaks, pastry and other dished in one click from the built-in Ready for Sky application recipe book.
The RGM-M810S is "2 in 1" device, combining the function of grill and oven. You can easily cook steaks, fish, vegetables, sandwiches, pies and waffles. You can also cook dishes in a baking sheet or aluminium foil tray. The smart grill will bake bread, roast seafood and other main dishes just like an oven.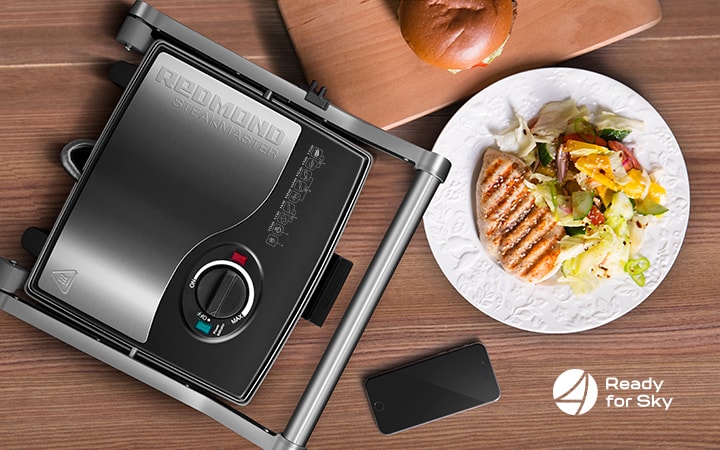 Control via the Ready for Sky application:
• You can turn the grill on at a distance any time*.
• Start cooking in one click from the recipe book embedded into the Ready for Sky app. When the panels are heated to a suitable temperature, the user will receive a notification on his/her smartphone and will be able to lay out all the ingredients.
• You don't need to follow the process of cooking. The application will notify you about the end of the cooking process and the smart grill will be turned off automatically.
• You can always check the grill operation status in the application. You can interrupt the cooking process or turn the grill off if necessary.
• From your smartphone you can enable the Keep Warm function (up to 3 hours) to keep the dish warm after cooking.
• You can heat up a cold dish in the grill enabling the Reheat function via the application.
• The Ready for Sky app has the integrated recipe book, containing dishes calorie value and detailed cooking guidelines.
Ready for Sky. Expand the boundaries of your freedom!
*Control from anywhere across the world is available with the connected R4S Gateway app on your home Android-smartphone/tablet.