In mid-October, the Ready for Sky company participated in two international exhibitions: Hong Kong Electronics Fair and China Import and Export Canton Fair.
At both exhibitions, Ready for Sky presented its own hardware and software platform IoT under the same name Ready for Sky. At the present moment, the remote control modules are fitted on more than 1,000 home appliances, including climate control and lighting, security and safety systems, smart sockets, as well as a variety of kitchen appliances. At the Ready for Sky booth, the mesh network of smart kettles SkyKettle, attracting the attention of visitors, and the latest development of the Ready for Sky, smart ovens with the ability to control and program cooking parameters from a smartphone, were demonstrated. The release of ovens SkyOven by Ready for Sky completed the implementation of the smart kitchen concept, having made all cooking technologies available from a smartphone.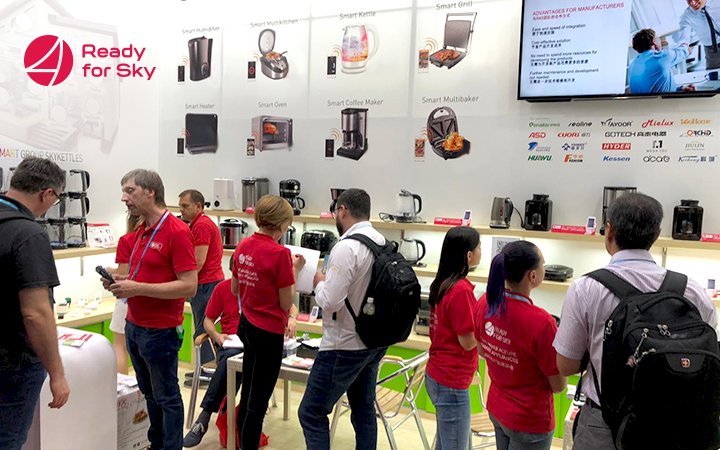 Ready for Sky representatives noted the growing interest of visitors to the IoT-platforms. Many visitors remembered the company's participation in the IFA-2018 exhibition and returned to Ready for Sky with more point and detailed questions, discussed specific opportunities for integration into the platform and were interested in projects aimed at the development of new smart appliances, potential capabilities of control from a smartphone, appliance compatibility. Presentations demonstrating the possibilities of implementing R4S technology were held for partners and corporate clients.
"The continuous expansion of the platform capabilities and regular updates to the Ready for Sky app," Linda Barton says, the Marketing Manager at the Ready for Sky, "allow our home appliance partners to easily and efficiently develop their own smart products and quickly integrate them into the platform. We see a great potential in implementing smart technologies in everyday life for both business and end users ".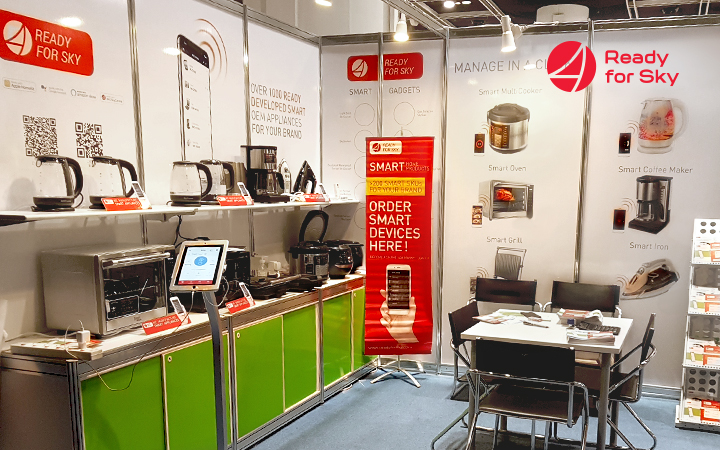 Also, the exhibitions in China demonstrated consumer services on R4S related to smart appliances: futuristic concept SkyMarket – product ordering service for cooking in smart appliances, SkyButton – smart button for quick shopping of almost any goods and services.
---
Hong Kong Electronics Fair 2018. The fair is organized by the Hong Kong Trade Development Council and held at the Hong Kong Exhibition Center in October each year. The fair is divided into thematic areas: from navigation systems to home appliances. In the technology exchange area, the leading research institutions and companies showcase their latest technical products. In 2018, the fair was attended by more than 3,700 exhibitors.
Canton Fair 2018. China Import and Export Fair is a trade fair with the widest representation of overseas buyers and the largest business turnover in Guangzhou (Canton). At the first stage of the fair the electronic and industrial products were presented. Canton Fair is the largest international platform where buyers and exhibitors from different countries and regions can negotiate business, share the latest market information and establish business connections.