Ready for Sky has presented its current Smart Home themed developments at the international 2015 Canton Fair, which took place between April 15 and April 19 in Ganchou (China).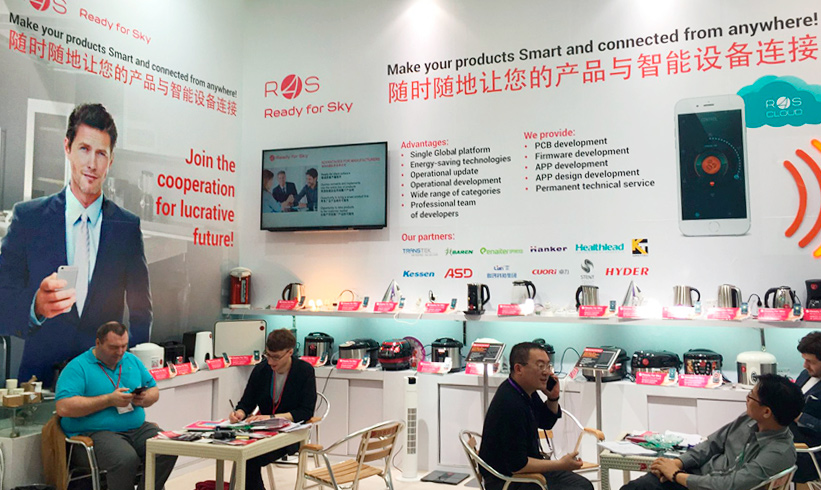 At the Canton Fair, leading world producers annually demonstrate cutting edge novelties in the field of electronics, home appliances, decorative elements, and other consumer products. Taking part in the exhibition are around 20,000 visitors from 200 different world countries and the volume of deals and contracts executed there is so significant that a tenth of China's annual export is attributed to it.
At its 2015 Canton Fair stand, Ready for Sky reflected the main trend of the company's business – development of Internet of Things and Smart Home concept implementation. Today, it is Ready for Sky that offers any home appliance or electronics producer the opportunity to provide their customers devices that may be controlled from a smartphone.
The high adaptability of R4S technology allows it to be integrated into practically any device. For this reason, within the bounds of the 2015 Canton Fair, more than 50 contemporary novelties from 30 different companies were demonstrated at the Ready for Sky stand. All of these devices were modernized with the help of Ready for Sky technology and right at the stand users were able to control the technology with their smartphone through the unified mobile app. Our company's partners are currently major players on the world market, such as ASD, Baren, CUORI, ENAITER, Gotech, REDMOND, Hanker, Healthlead, HYDER, KESSEN, Kingtec, LIAN, STENT, Transtek, and others.
Today, for most producers the capability of remote device control is one of the fastest growing trends in product development. The solution that Ready for Sky offers represents a one-of-a-kind platform: it rids the brand of the necessity of large-scale expensive development, meanwhile providing producers a new competitive edge. For this reason, the technology presented at the exhibition caused quite a buzz from the business community: during the event, we concluded a large amount of important contracts with famous brands.
As a result of the 2015 Canton Fair, Ready for Sky representatives noted that the continued development of mutually fruitful cooperation with partners should occur at an international level while attracting new markets.